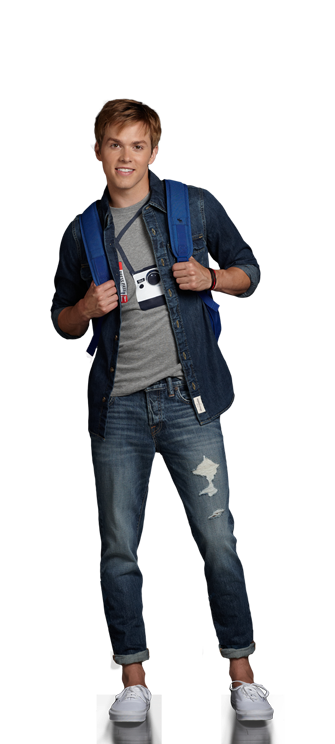 let's roll
start with rugged camo cargo shorts and treads. toss on a graphic tee with a vintage pop art graphic and leave a denim shirt unbuttoned on top. a varsity jacket and a quick spray of new prepped & cool body spray completes the look.
Get this look below
large-scale pop art graphic with logo, self fabric interior neck taping, vintage abercrombie wash, muscle fit, imported

100% soft sueded cotton
Store Item

223-619-0577-001

Web Item

53521
Add To Wish List
giant mountain tee
$17.50
Email A Friend
our all-new body spray is cool and invigorating! crisp cucumber blends with sage and soft musk for a clean, fresh scent that's perfect for a date or just chilling out.

body spray can only ship to some countries and shipments in the US must be standard delivery.
Store Item

264-710-0012-025

Web Item

51872
Add To Wish List
a&f prepped and cool
$10
2 FOR $16
Email A Friend
faux leather footbed with embossed logo heel, logo embroidered upper, genuine leather tab with stamped moose detail, classic fit, imported
Store Item

212-745-0099-042

Web Item

51858
Add To Wish List
rugged spring flip flops
$34.50
Email A Friend
sun-washed fading, button-down cargo pockets, heritage logo tab at back, vintage abercrombie wash, classic fit, imported

100% soft sueded cotton
Store Item

228-688-0204-036

Web Item

51805
Add To Wish List
a&f cargo shorts
$39.50
BUY ONE GET ONE FOR 50% OFF
Email A Friend
supersoft denim fabric, button-down chest pockets, heritage logo patch at center placket, light wash, muscle fit, imported

100% cotton
Store Item

225-680-0385-029

Web Item

50422
Add To Wish List
indian pass denim shirt
$44.50
Email A Friend
supersoft, varsity logo applique and embroidery at left chest, vintage stripes at collars and cuffs, rugged full-zipper closure, front pockets, interior neck taping, vintage abercrombie wash, muscle fit, imported

60% cotton / 40% polyester
Store Item

222-627-0223-023

Web Item

51309
Add To Wish List
round mountain sweatshirt
$49.50
Email A Friend